Upcoming Events in Washington
Including: Car Shows, Swap Meets, Motorcycle Events & Races
April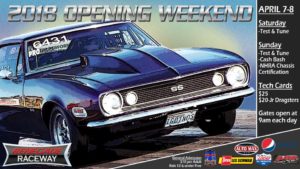 April 7-8: Renegade Raceway, First Race of the Season on Saturday, April 7th and Sunday, April 8th at Renegade Raceway, 1395 North Track Road, Wapato, WA 98951.

April 13-15: The Spokane Speed and Custom Show is Friday, April 13th to Sunday, April 15th at the Spokane Fair and Expo Center.
April 29: 20th Annual Homecoming Car Show is Sunday, April 29th from 10am to 1pm at Walla Walla University, Corner of 4th and College Ave. in College Place.
If would like to add a show or event to our calendar please email the information to: tnewey@washingtoncarculture.com