Upcoming Events in Washington
Including: Car Shows, Swap Meets, Motorcycle Events & Races
August 17-19 – Spokane: The Goodguys 17th Great Northwest Nationals is Friday, August 17th to Sunday, August 19th at the Spokane County Fair & Expo Center, 404 North Havana Street.
August 18 – Dupont: The 28th Annual 5 Star Classic Car Show is Saturday, August 18th from 7am to 3pm at Clocktower Park, 1400 Palisade Blvd.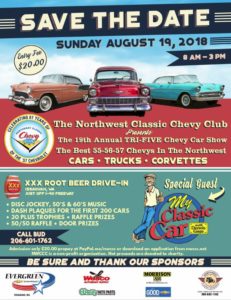 August 19 – Issaquah: 19th annual Tri-Five Car Show is Sunday, August 19th from 8:00am to 3:00pm at the XXX Root Beer Drive-In, Issaquah, WA… Just off I-90 Freeway.
If you would like to add a show or event to our calendar please email the information to: tnewey@washingtoncarculture.com