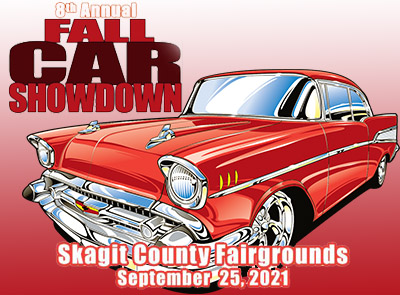 The 8th Annual Fall Car Showdown
At the Skagit County Fairgrounds Garage Sale, Antiques & More Event
REGISTRATION is FREE! Parking $3 per Car, Entry $3 per Person (just pay general event admission fee)
-Car Registration 8:15-8:45am. Public Show Hours are 9:00am-3:15pm.
-Pre-Registration is recommended, deadline is September 17th. Day of Registrations will be accepted!
-First 75 registered cars will receive a commemorative dash plaque, and all participants will receive a Certificate of Recognition. All classes of vehicles welcome!
-Awards will be announced at 3:00pm.
Fall Garage Sale, Antiques & More (September 24-25, 2021) –over 140 vendors, food, live music, and much more!
Garage Sale Hours are 9am-4pm, $3 ENTRY for general public